I feel so honored that my novel made The Awesome List from this reader/writer/reviewer!
http://sharonstevensonauthor.com/the-awesome-list-my-top-12-books-of-2014/
The Awesome List: My Top 12 Books of 2014
Okay, I have to admit when this year started out I had planned on reading and reviewing about 2-4 books a month, but a few months in and I was already finding this resolution difficult to stick to.  The problem being that I love to read, and I feel compelled to leave a review if I really liked a book.  So I ended up reading a similar number of books as last year and reviewing most of them.  I hadn't expected to make up a list of the best books I read this year as I hadn't expected to read anywhere near so many, but there you have it!
In no particular order, here are the 12 best books I read this year…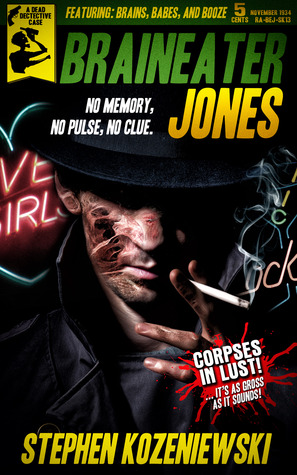 'Braineater Jones' by Stephen Kozeniewski
Includes: Zombies, Mystery, Dark Humour, Booze, Prohibition, A Talking Severed Head, Build Your Own Hookers!
Read it when: you're in need of a serious jolt of entertainment.
http://www.amazon.com/dp/B00FRT4CD0
Confession: technically I read this in December 2013, but it was after my 2013 list was already compiled so I'm including it in this year's list and you can't stop me.  Mwa ha ha!  If you're a fan of noir, love zombies and want to read something really cool and different you should totally check this one out.  I had to read Kozeniewski's other books after reading this, and they were excellent also, but this one is my favourite.  It is, quite simply, amazeballs smothered in awesome sauce!
'Hunters' by Aoife Marie Sheridan
Includes: Demons, Ghosts, Love, Complex Friendships, Alcoholism, Exorcism.
Read it when: you're in the mood for something dark and spooky.
http://www.amazon.com/dp/B00NLRMJ5S
This book really took me by surprise.  I'd been expecting an entertaining urban fantasy read, and what I got was much darker, more unique and captivating.  If I had to pick a genre for the book I'd probably go with horror, although it will also fit into dark fantasy and urban fantasy categories.  The characters are believable and the story had a dark fairy-tale feel to it.
'The Prophecy of Arcadia' by M.H. Soars
Includes: Aliens, Young Adults, Forbidden Love, Suspense, Mystery, Unexplained Prophecies.
Read it when: you want to impress your friends by finding the next big YA bestseller before it gets huge.
http://www.amazon.com/dp/B00HX8UVXS
As someone who tends to dislike young adult books for a variety of reasons, this book really took me by surprise.  The last young adult series I read that I actually liked this much was Kelley Armstrong's Darkest Powers Trilogy.  I was fully engaged in this story from start to finish.  Mark my words, this alien twist on YA PNR is going to be the next big thing.
'Only The Cold Remains' by Curran Geist
Includes: Aliens, Brutality, Species War, Gore, Action.
Read it when: humanity has disillusioned you completely – this savage tale will make you realise just how lucky you really are…
http://www.amazon.com/dp/B00KXKDSCO
I really liked the first unique novel in this series but book number two really knocked it out of the park for me – I could visualise this as a movie and it would be awesome.  There's a lot of very memorable imagery and distinctive characters, including some pretty badass fighters.  Fans of sci-fi and horror will love it.
Check out some other "Awesome" books of 2014 at
http://sharonstevensonauthor.com/the-awesome-list-my-top-12-books-of-2014/